Return to News
Metropolitan Utilities District receives $10 million federal grant for natural gas infrastructure improvements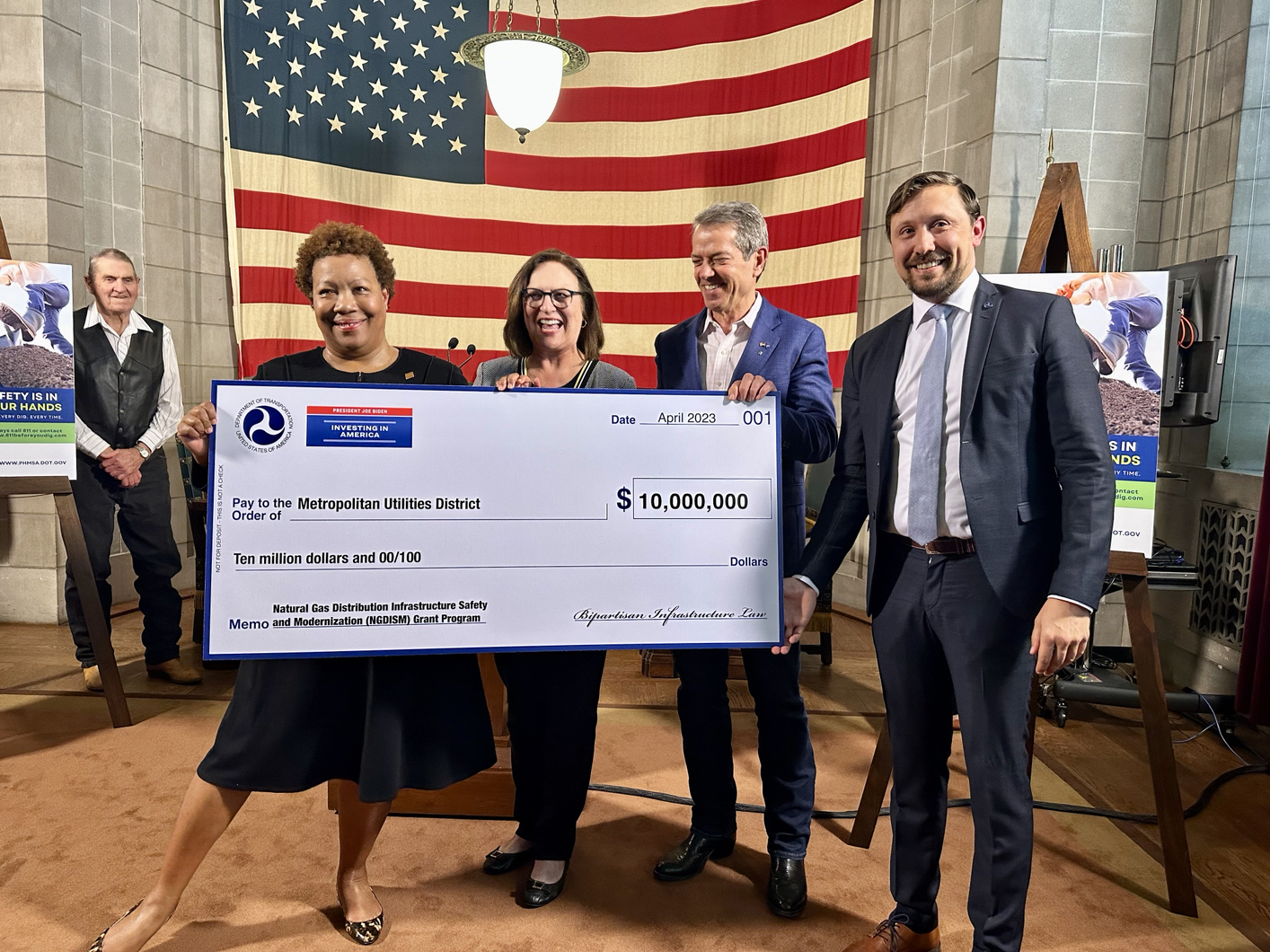 April 14, 2023; Omaha, Neb.— At the state capitol this afternoon, Metropolitan Utilities District (M.U.D.) was officially recognized as a recipient of a $10 million grant through the U.S. Department of Transportation Pipeline and Hazardous Materials Safety Administration's (PHMSA) Natural Gas Distribution Infrastructure Safety and Modernization (NGDISM) grant program for the 2022 funding cycle.
M.U.D. Board Chair Tanya Cook and other officials were on hand at the announcement ceremony – part of PHMSA's 8-city national tour – to accept the award on behalf of the District and its customer-owners.
The NGDISM grant program, established by President Biden's historic Bipartisan Infrastructure Law, is aimed at mitigating safety risk and methane emissions from the natural gas distribution pipes.
"This much-needed funding will go toward M.U.D.'s ongoing program to update critical natural gas infrastructure in the communities we serve," Cook said.
Through the District's infrastructure replacement program, the low-pressure cast iron gas mains and services are being modernized with safer and more efficient high-pressure plastic gas pipe. Many of the pipes targeted to be replaced are in older sections of M.U.D.'s service area and within historically disadvantaged communities.
"Through these grant dollars, many of these neighborhoods will see a direct economic benefit, including increased property values, as well as improved safety, reliability and affordability of their natural gas services," Cook added.
In addition, the removal of these cast iron pipes reduces gas leaks and methane emissions, reducing M.U.D.'s carbon footprint and supporting environmental sustainability.
"We're excited to see this grant funding put to work on shovel-ready projects," said M.U.D. President Mark Doyle. "M.U.D.'s more than 800 employees, including our IBEW 1521 partners and our construction contractors, have a well-established process to efficiently update this critical infrastructure, which allows us to continue providing life-essential services to our community."
M.U.D.'s infrastructure replacement program began in 2008 prioritizing the replacement of 560 miles of cast iron gas mains. So far, over 420 miles have been replaced with a plan to replace all cast iron mains by the end of 2027. Nearly 135 miles of water mains have been replaced or rehabilitated, with a long-term goal to increase the rate of water main replacements to approximately 25 miles a year.
Gas and water rates include monthly fees to provide long-term funding for the program. The District also issues bonds, as needed, to help fund infrastructure replacement.
"We also continue to look for other funding opportunities, including additional grants and low-interest loan programs that are in the best interests of our customers and ratepayers," Cook said.
For more information about M.U.D.'s infrastructure replacement program, including an interactive map of current projects, visit mudomaha.com and search for Projects in Your Neighborhood.
###
About Metropolitan Utilities District: The mission of the Metropolitan Utilities District, headquartered in Omaha, Nebraska, is to provide safe, reliable and cost-effective natural gas and water services to our community. Overall, the District serves more than 600,000 people in the metro area. The District is the fifth largest public natural gas utility in the United States, serving customer-owners in Omaha, Bennington, Fort Calhoun, Springfield, Yutan and Bellevue. The District also provides safe, high quality drinking water to customer-owners in Omaha, Bellevue, Bennington, Carter Lake, La Vista, Ralston, Waterloo and the Papio-Missouri Natural Resources District (which supplies water to Fort Calhoun). For more information, visit mudomaha.com.