Return to News
February 2022 Bill Insert: Utility Assistance Programs Available

UTILITY ASSISTANCE PROGRAMS AVAILABLE
Customers experiencing financial hardships may be eligible for utility assistance through the state of Nebraska or the M.U.D. Home Fund. The first step is to contact the Nebraska Energy Assistance Program (LIHEAP) at 1.800.383.4278 or apply online at accessnebraska.ne.gov.
If customers are not currently eligible to receive assistance through ACCESSNebraska, they are encouraged to visit mudomaha.com/homefund for a list of partnering agencies to be connected to utility assistance programs. Or, they may call Customer Service at 402.554.6666 to speak with a representative.
ELIGIBILITY GUIDELINES FOR HOME FUND
Applicants must have verification of a past-due balance or disconnection notice and:
• Be experiencing an acute financial crisis due to a verifiable emergency (illness, death, layoff, etc.) and have exhausted alternative resources, and
• Have an income at or below 200% of the federal poverty level, and/or
• The household contains one or more individuals who are 60+ and the only source of income is social security.
• Applicants are automatically income-eligible if they currently receive government assistance (i.e., SNAP, LIHEAP, ADC, Medicaid, AABD).
• If customers do not meet any of the eligibility requirements and are experiencing an acute financial crisis, they should reach out to a partnering agency to determine eligibility.
• Assistance is limited to $500 per fiscal year, per household and can be used for deposit assistance.
WANT TO HELP OTHERS?
We've made it easy for you to give, and 100% of your donation goes directly to helping customers in need. Visit mudomaha.com/homefund to donate or enroll in the Bill Round Up program.
BOARD OF DIRECTORS UPDATE
Directors elected Jack Frost board chair for 2022. He is serving his 36th year on the board and represents Subdivision 7. He was first elected to the board in 1986 and re-elected in 1992, 1998, 2004, 2010 and 2016. Directors elected Tanya Cook as vice chair. She represents Subdivision 5. She was appointed to the board in 2019 and elected in 2020.
Other directors are: Jim Begley (Subdivision 1), Tim Cavanaugh (Subdivision 4), David Friend (Subdivision 2), Gwen Howard (Subdivision 3) and Mike McGowan (Subdivision 6).
The board generally meets the first Wednesday of the month at the District Headquarters at 7350 World Communications Drive. Board meetings are open to the public and livestreamed via the website. Agendas are posted at mudomaha.com or available by calling 402.504.7147.
MORE EFFICIENT. MORE SAVINGS. MORE MONEY IN YOUR POCKET.
Metropolitan Utilities District gives you more reasons to choose natural gas appliances and equipment — rebates.
Visit mudomaha.com/rebates and click on the applicable rebate form link and download. Complete and return the rebate form, along with your receipt or proof of purchase. Rebates are credited to your M.U.D. account. See each form for important details.
RESIDENTIAL CUSTOMER REBATES
$200 Natural Gas Range Rebate – Purchase a new natural gas range and receive a $200 rebate.
$200 Natural Gas Dryer Rebate – Purchase a new natural gas dryer or replace your electric dryer with a faster, more efficient natural gas dryer and receive a $200 rebate.
DID YOU KNOW? Landscape irrigation accounts for more than one-third of all residential water use. Additionally, estimates show that up to 50 percent of commercial and residential irrigation water use goes to waste due to evaporation, wind, improper system design or overwatering.
$75 Rain Sensor Rebate – Receive a $75 rebate when you have a rain shut-off device and/or a Wi-Fi sprinkler predictive controller installed by an irrigation company.
Other Incentives – Ask your HVAC or appliance dealer about any additional incentives that may be available to you.
Developer/Multi-Family Housing – Check the website for gas appliance rebate offers or call 402.504.7980.
WINTER SAFETY TIPS FOR GAS METER EQUIPMENT AND HYDRANTS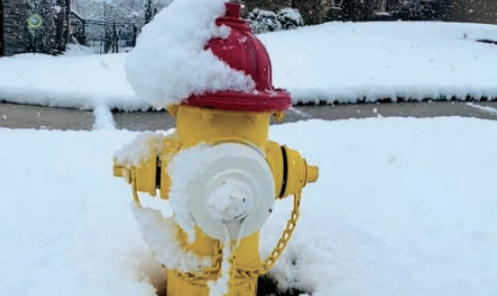 This winter, please take a moment to help our first responders and clear any snow from around the fire hydrants near your property. Seconds save lives in an emergency.
---
Your outside gas meter needs to be clear of snow on and around it. When possible, use a broom or brush, instead of a shovel to clear snow off regulators, meters, associated piping, tubing, gauges or other system equipment.
This will help our meter readers when they read your meter and also for safety. Here are a few other important tips:
• Know the location of your gas meter.
• Keep it clear for emergency responses.
• Keep shrubbery trimmed around your gas meter.
• Do not enclose your meter.
• Do not tie pets to or hang objects on your gas meter or piping.
For more safety information, visit mudomaha.com/safety.
Download the insert