Board approves 2020 budget
The M.U.D. board approved a 2020 budget with estimated revenues of $339.1 million combined for the Water and Gas Departments. Revenues will fund operating expenses, gas purchases, debt service costs, capital improvements and cast iron pipe replacement.
"It is critical that the District continues to responsibly invest in infrastructure replacement to ensure the reliability of our gas and water distribution systems," said M.U.D. President Mark Doyle. "We strive to find a balance between affordability and operational efficiencies while ensuring that we provide safe, reliable and cost-effective service to our customers."
What to expect on your 2020 bill
An average residential water customer with a 5/8- inch water meter will see a projected water bill increase of $1.69 a month or about $20 a year. Impacting water costs is a 12-percent water rate increase approved in 2019 to be effective January 2, 2020.
An average residential gas customer will see a projected increase of $1.28 a month or about $16 a year. Increases are due to higher "pass-through" cost from natural gas pipeline suppliers, including cost to purchase gas and transportation charges.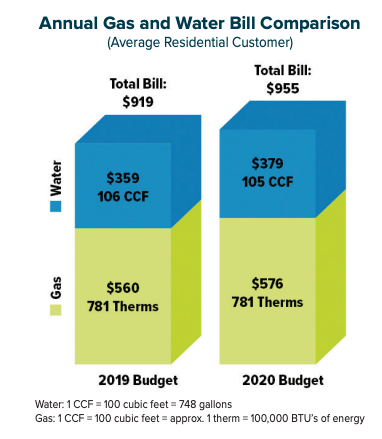 Board of directors update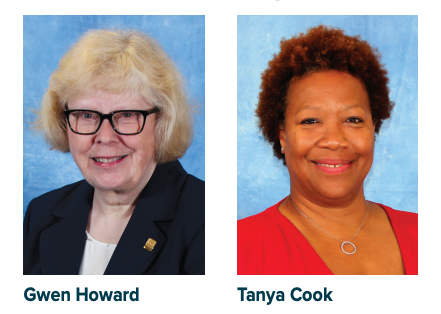 Directors elected Gwen Howard board chair for 2020. She is serving her sixth year on the board and represents Subdivision 3.
Prior to her election to the M.U.D. board in 2014, she served as a Nebraska state senator from 2005- 2013 and is a retired social worker.
Directors chose Tanya Cook as vice-chair. She was appointed to the board in September 2019 to fill the vacancy for Subdivision 5 created by the death of Tom Dowd. She will serve the remainder of his term which runs through 2020.
She served as a Nebraska state senator from 2009 to 2017, and is president of City Girl Communications, a public relations firm.
Other directors are: Jim Begley (Subdivision 1), Tim Cavanaugh (Subdivision 4), David Friend (Subdivision 2), Jack Frost (Subdivision 7) and Mike McGowan (Subdivision 6).
Board meeting agendas and documents are posted on our Board Meetings page. Meetings are recorded and videos are posted there.
New offer available for M.U.D. residential water customers
HomeServe USA, an independent provider of home repair service solutions, is offering M.U.D. residential water homeowners an optional coverage plan to help protect your exterior water service line at a preferred price.
Benefit of purchasing coverage
Homeowners are responsible for the water service line from the water main into the home. Repairs to these exterior water service lines damaged from normal wear and tear aren't usually covered by homeowners insurance, and a plan from HomeServe helps protect you from expensive repairs caused by normal wear and tear.
HomeServe works as a "one stop shop" to alleviate the stress that comes from finding a contractor, getting bids and paying the final bill, up to the benefit amount.
Get peace of mind for $4.49 a month
Purchasing a plan is completely optional, and we encourage homeowners to research the program's benefits before enrolling. Please consider your situation, including the age of your home, the age and material of the water service line and your ability to pay for this coverage.
For more information, visit our HomeServe page or call HomeServe at 1-833- 805-6754.
Coverage subject to eligibility requirements, exclusions and terms and conditions. See site or call for information. To opt out of future mailings, call HomeServe at 1-833-805-6754 and select Option 2.
5K run and Walk for Warmth: March 7 at Aksarben Village
Registration is open for the 13th annual Heat the Streets Run & Walk for Warmth, a timed 5K and untimed, family-friendly walk.
Proceeds go to local energy assistance programs to help seniors, veterans, people with disabilities and low-income families pay their utility bills.
The event is held in the winter to bring attention to those who struggle to heat their homes.
More details:
• Where: Stinson Park at Aksarben Village, 64th and Center Sts. Parking is free.
• When: 5K begins at 9 a.m., with walk immediately following.
• Questions? Email [email protected] gmail.com or visit the Contact Us page at www.heatthestreetsomaha.org.
Download the insert