Return to News
April 2022 Bill Insert: Understanding Your Natural Gas Bill

UNDERSTANDING YOUR NATURAL GAS BILL & FLUCTUATING GAS PRICES
Natural gas is an important part of our everyday lives and as your utility provider, Metropolitan Utilities District understands you may have questions about your gas bill and fluctuating gas prices. Your gas bill is a combination of variable and fixed costs.
VARIABLE "PASS-THROUGH" COSTS
M.U.D. purchases supplies on the natural gas market, which are affected by supply and demand.
• Production, national storage on pipelines and weather impacts the overall cost of natural gas.
• Cold weather increases demand for natural gas in the winter as does warm weather during the summer as natural gas is also used to produce close to 40% of electricity in the U.S.
These elements can change often, leading to variations in the cost of gas on your monthly bill.
FIXED COSTS
M.U.D. oversees the pricing for operating our gas system. We are proud to say the rate for these fees have not changed since 2017. They include:
• Service charge covers costs for administration, such as meter reading, billing and collections.
• Gas infrastructure replacement charge to replace older gas mains in conjunction with the city's combined sewer overflow project.
In addition, we help limit costs with our own gas storage and production facilities, and pre-paid contracts. This allows M.U.D. to buy gas at a fixed discount compared to market prices and supplement our supply in the very coldest times of the year.
The benefit of these facilities was never more evident than during last year's polar vortex. Our storage facilities provided more than 30% of gas used by customers over six days, shielding the District from spending an additional $100 million on gas purchases during record high prices.
HOW DOES THIS LOOK ON MY BILL?
Variable Costs: The first portion of your gas bill is for the cost of the gas itself, called the gas supply charge. The price for each unit of gas you use, called a therm, is driven by market prices. See the red box below. This is the portion of your bill that has been impacted this heating season.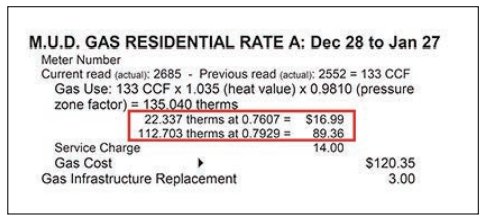 Fixed Costs: The second portion of your natural gas bill is the gas delivery charge. Customers pay the delivery charge on each unit of natural gas that they receive from M.U.D. It includes the service charge and gas infrastructure replacement charge. These charges have not changed.
HOW CAN I MANAGE MY BILL?
Enroll in budget billing – The budget payment plan spreads your average utility usage across 12 monthly installments to avoid bill fluctuations. You may join the plan any time of year.
Reach out to Customer Service – If you are facing financial hardships, please contact Customer Service at 402.554.6666 to discuss your utility account. We are committed to working with you to discuss payment arrangements and provide information on utility assistance programs.
Apply for utility assistance – Assistance is available to income-qualifying customers. Visit mudomaha.com/homefund for more information.
Reduce energy use and redeem rebates – Visit our Rebates page for cost-effective ways you can reduce usage in your home and to see available appliance rebates!
INFRASTRUCTURE REPLACEMENT 2021 ANNUAL REPORT
District crews and contractors continued to update critical, aging gas and water distribution mains through our infrastructure replacement program, completing nearly 45 miles of gas main and 14 miles of water mains in 2021.
We also assessed the condition of nearly one mile of water main using technologies to inspect the inside of the pipe. This data helped the District with rehabilitation decisions to mitigate the risk of future breaks.
We are making steady progress on water main replacement, with the long-term goal to increase the rate to 25 miles a year.
The Gas Department began an accelerated program in 2008 to replace 560 miles of cast iron gas mains. Since then, 407 miles have been replaced and the remaining 153 miles will be completed by the end of 2027.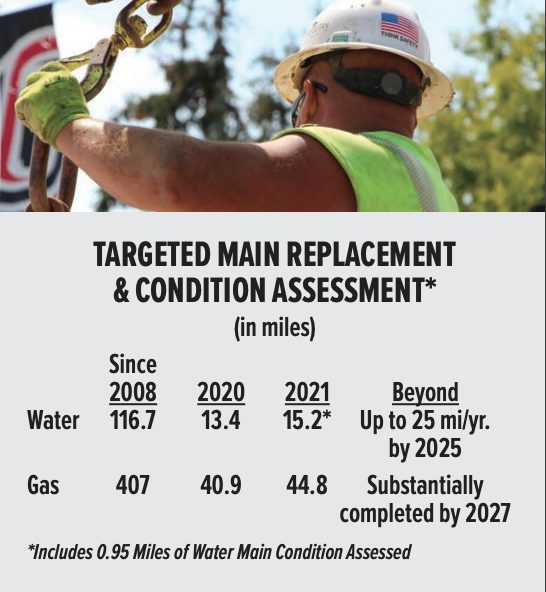 FUNDING THE PROGRAM
Our gas and water rates include monthly fees to provide long-term funding for infrastructure replacement. In addition, the District issues bonds, as needed, to help fund infrastructure replacement.
KEEPING YOU INFORMED
When infrastructure projects affect your neighborhood, the District will keep you informed through mailings and the Nextdoor app. We also provide project information on our website map at: mudomaha.com/infrastructure-projects. Whenever possible, projects are done in conjunction with road or redevelopment projects or the City of Omaha's combined sewer separation work to save money and minimize inconvenience to customers.
BUYING A HOUSE?
If you're buying a house, check with the seller or your real estate agent about the existing water service or private line. Ask when it was installed and if there have been repairs. When the water service line is very old and made of a material that can corrode, it may deteriorate. If the water service line leaks, you are responsible for repairs.
EXTERIOR WATER SERVICE LINE COVERAGE
HomeServe USA, an independent provider of home repair service solutions, offers M.U.D. residential water homeowners an optional coverage plan to help protect your exterior water service line at a preferred price. For more information, visit mudomaha.com/homeserve or call HomeServe at 1.833.805.6754. Coverage is subject to eligibility requirements, exclusions and terms and conditions.
ANNUAL EVENT RAISES RECORD AMOUNT FOR UTILITY ASSISTANCE
More than 600 runners and walkers participated March 5 in the 15th annual Heat the Streets Run & Walk for Warmth. Registrants, sponsors and donors brought in a record $151,352 for the event, put on by M.U.D. and Omaha Public Power District.
More than 400 households will benefit from the fundraiser. Utility assistance is a year-round need, and donations are still being accepted online at heatthestreetsomaha.com.
Download the insert