Return to News
December 2021 Bill Insert: Save Money with Combined Invoicing
COMBINED INVOICING FOR UTILITY FEES SAVES CUSTOMERS MONEY
Metropolitan Utilities District, the City of Omaha and other area municipalities partnered to provide more cost-efficient billing of sewer fees to customers. Did you know? • The City of Omaha is responsible for its regional sewer system and all charges associated with the sewer line items of the invoice. • Sewer and trash rates and fees are set by each respective city or sewer jurisdiction. • M.U.D. is the billing agent for the City of Omaha and other municipalities. M.U.D. collects sewer use and trash fees and remits those back to the respective city.
COMBINED INVOICING PROVIDES MORE EFFICIENT SERVICE TO BOTH SEWER USERS $ AND M.U.D. CUSTOMERS BY AVOIDING UNNECESSARY BILLINGS AND POSTAGE COSTS.
Sewer fees are in addition to your M.U.D. utility bill, as highlighted in the box below. For more information, see the City's rate brochure enclosed or visit omahacso.com.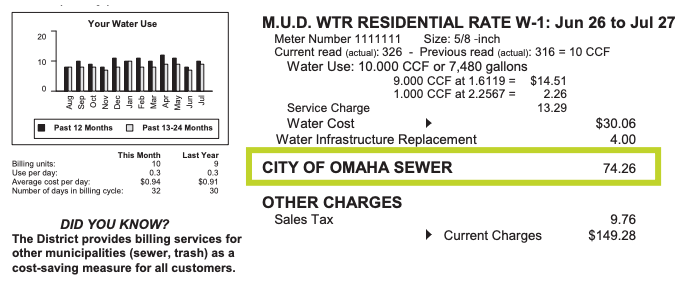 Download the insert